"On the Water" is all about our social rowing and racing.
"On the Water" also gives you access to our sub pages such as:  Book a Boat, Coxes, Juniors, Tides, Latest Weather, Looking for Crew and Safety. Click and see!
Social Rowing
Here you will find info about some of our previous rowing events both social and racing.
Picnic Rally Sunday 8th July 18
15 club members headed up by water to enjoy a picnic afloat moored on the Cornworthy moorings. A glorious sunny hot afternoon.
Steak on Stones Rally
Our 2018 rally to Stoke Gabriel was a steak on stones rally with over 20 of us heading up river in various forms of craft. We safely arrived at the pontoon at Stoke G after a challenging row against the wind….however the tide was in our favour but due to wind over tide created a challenging set of conditions. Well done all the rowers…..We all enjoyed a lovely meal provided by the River Shack.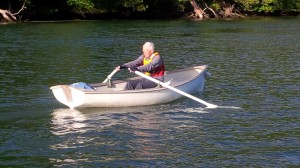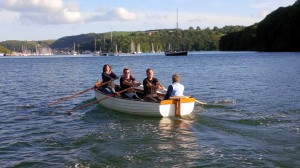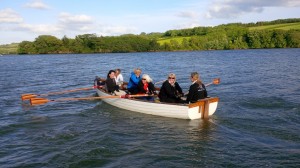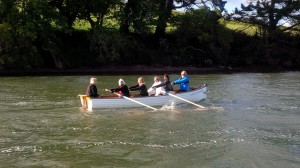 A previous picnic row to Sharpham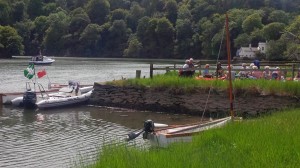 Tuckenhay Row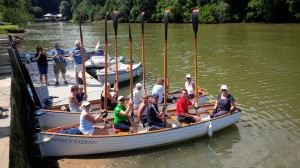 This regular social row has proved to be a very popular event.
Our next rally to Tuckenhay is being help on Sunday 22nd July 18.
Keep an eye on our facebook page and this website for more details nearer the time.
Galmpton Fish & Chips Rows 2014 – 2015 – 2016 – 2017
A number of club members enjoyed a row up to Galmpton for a fish and chips supper on the green by the slipway. 2017 was our 4th Galmpton visit and we are looking forward to our 2018 return visit which is booked for Saturday 22nd September.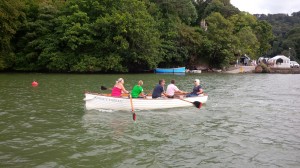 For those of you who have never been to Dartside Quay, there's a small green with seating and a fantastic view across the water to Dittisham over a mile away. Perfect for a fish and chips supper!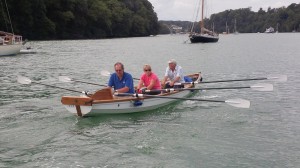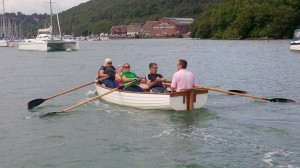 Supper of fish and chips plus other delights were supplied by Squires of Churston.
Racing
The Head of the Dart Race
This race is held in April each year. This year (2018) 2 crews from KRC competed….achieving very respectable times. Sadly no one took any photos!!!!
Flat Owers Challenge
Racing from just above the Higher Ferry heading up past Dittisham around the Flat Owers mark back past the Anchor Stone to the finish just above the Higher Ferry. Then back to our clubhouse for a creekside BBQ.