Dates for your  2017 diary
Watch this space for details and dates of any future rowing or social events planned for  2017.
…………………………………………………………………………………………..
More Fun Afloat.
Looking out this morning at a very sunny blue sky got me thinking of more fun afloat. Last year we enjoyed a number of trips up river in various craft including rowning boats, ribs and launches to the Ferry Boat Inn at Dittisham for "Rock on the beach".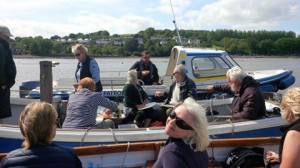 Here's the dates for this years Rock on the Beach events.
Sunday 7th May.
Sunday 4th June.
Sunday 2nd July.…
Sunday 6th August.
The fun tends to start round about 13.00hrs………with food available. We tend to congregate attached to a visitors mooring for a picnic afloat.
So plan ahead……….book a club boat or bring your own………..get a crew together……..pack a picnic………and enjoy the afternoon.
Keep an eye on the Ferry Boat Inn website for updates.
www.ferryboatinndittisham.pub
Looking forward to seeing you there!
……………………………………………………………………………………………………………………
Tuckenhay Rowing Rally
Saturday 3rd June.
Yes, back by popular demand is the Tuckenhay Rowing Rally. Leaving Darthaven at 12.15 and heading up to the Maltsters at Tuckenhay. Eats and drinks available at the Maltsters. A voluntary contribution to club funds for all rowers using club boats is a suggested £5, Donate what you can!
Arrange a team……or take your own boat…….or let me know you would like a seat in a boat. Row one way or both (subject to sufficient numbers).
Regards
Graham
01803 882125
…………………………………………………………………………………………………………………….
---
There were no rallies in 2016 but below is a sample of what we got up to on the water in 2015
Saturday 16th May. The Dittisham Picnic Rally planned for the 16th was canc due to the poor weather forecast and lack of support. Next year we will avoid the Music festival weekend.
---
Sun 31st May with HW at 17.40 This was the date set for our steak on stones rally to Stoke Gabriel. Blessed with a break in the weather  26 of us headed up to Stoke G by water in various craft including our 2 Seine boats plus Neil Baxster in his superb little skiff. We all arrived alongside the pontoon at Stoke G with those rowing experiencing a challenging trip. Well done rowers! On arrival we wre greeted at the River Shack where we all enjoyed a delicious meal.
If you missed out on this rally and would like to join us on a future club rally keep an eye on this events page along with our club facebook page.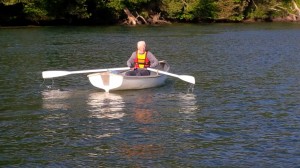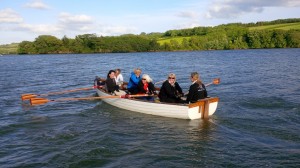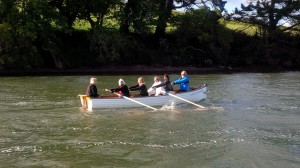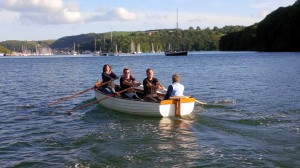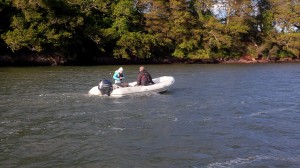 ---
Newfoundland Cove or Dittisham
Sat 6th June with LW at 15.10 was the date set for our first ever picnic rally to Newfoundland Cove however due to strong unfavourable south westerly winds we decided to head for Dittisham instead. We all rafted up on a visitors mooring and had a very enjoyable late picnic lunch. If you missed out on this rally please bear it in mind for next year as it's sure to be in the programme again.
Sharpham Picnic Row
27th June with HW at 15.05 was the date set for another new club rally. This one is to south quay at Sharpham.  South Quay is located upstream from Stoke Gabriel and Dunncannon, so similar in distance to our row to Tuckenhay but as usual we made best use of the tide all the way there and back. The Sharpham Trustees kindly agreed to let us use south quay for a club picnic for a donation towards the Sharpham Trust. After a safety briefing we left Darthaven at approx 12.30. Boats were loaded with picnic rugs, picnics and suitable refreshments for the row and picnic.
A very enjoyable afternoon picnic with 16 KRC members and guests soaking up the sun and enjoying a delicious picnic. Amie plus Gertrude and 3 other boats joined in including Dennis and Gwen Royle with their delightful sailing dinghy. South Quay is certainly a lovely picnic location as long as the weathers good…..thankfully it was.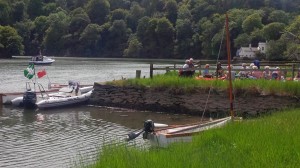 Our next Rowing Rally is up Bow Creek to the Maltsters at tuckenhay. This is on Sunday 9th August the day after Dittisham Regatta, HW Dartmouth is at 14.24 so we will be aiming to leave Darthaven by 12.15. However more details will follow.
---
Rock on the Beach at the Ferry Boat Inn Dittisham

Sunday 5th July
Sunday 2nd August
Sunday 6th September
Weather permitting we will probably be heading up to Dittisham for these sessions – Perhaps see you up there afloat!
Worth checking out the FBI website for updates.
…………………………………………………………………………………………………………………..
Sat 11th to Sat 18th July – Classic Channel Regatta
---
Sat 25th & Sun 26th July – Kingswear Regatta
---
Sat 1st Aug to Sat 8th – Salcombe Town Regatta
---
Sat 8th August – Dittisham Regatta aka Ditsum Regatta.
---
Thur 27th to Sat 29th Aug – Dartmouth Regatta
---
Sat 19th Sept – Rally to Newfoundland Cove and the Mew Stone
LW 15.54
Weather permitting we will be heading to Newfoundland Cove for a picnic afloat plus a row out arounfd the Mew Stone to go seal spotting. We do need very favourable winds and a smooth sea state for this event so watch this space. Let me know if you would like to join in as spaces in the Seine Boats and on the Support Boats is limited and will be allocated on a first come first served basis.
……………………………………………………………………………………………………………………
Sat 26th September – Rally to Galmpton
Row to Galmpton for a fish and chips supper. We held this rally for the first time last year and due to much demand we have decide to include it again in our programme for 2015. More details will follow but HW is at 17.32 Height 4.9 so we will aim to leave Darthaven at 16.00. If you plan to join in add it to your diary now. As usual there will be limited seats available as we expect to just take 2 Seine Boats.
………………………………………………………………………………………………………………………………………………………………………………………………………