Dates for your 2019 diary
…………………………………………………………………………………………………………………………………………………………………………………………
FLAT OWERS CHALLENGE 2109
For those who haven't competed in this challenge before here's the gist of what's involved:
SEINE BOAT CHALLENGE
This is a CHALLENGE RACE between KRC Seine Boats.
It is being held on Sunday 30th June with the race starting at approx. 16.00 hrs.
The START is from above the Higher Ferry.
The START BOAT will be SEA BLUE.
A whistle and wave of the KRC flag starts the race.
THE COURSE
Seine boats head up river passing either side of the Anchorstone, through the Dittisham Narrows and around the Flat Owers Buoy KEEPING THE BUOY TO STARBOARD.
The return route is back down through the Narrows passing either side of the Anchorstone, back past Noss Marina to the finish line just above the Higher Ferry.
THE CATCH !
EVERYONE ABOARD MUST COX AND ROW IN EVERY POSITION during the course of the race so quick smooth changeovers are key to winning.
DART 14s
If there's enough interest we could also race our two Dart 14s but we would need 6 rowers for this separate challenge. If you would like to row a Dart 14 please let me know when you reply.
PLEASE LET ME KNOW AS SOON AS POSSIBLE
if you would like to be a crew member in the Seine boat challenge. We may be limited to 10 or possibly 12 rowers/coxes if only 2 Seine Boats are involved.
TEAMS WILL BE DRAWN FROM A HAT SO THE FIRST 12 PEOPLE TO CONTACT ME WILL BE INCLUDED IN THE DRAW.
If weather permits we will aim to have drinks and food back at our creek side clubhouse afterwards. More details to follow.
If you want to be involved please let me know now BY EMAIL. (Not by phone please)
graham.sowerby@btinternet.com
…………………………………………………………………………………………………………………………………………………………………………………………
FBI Rock on the Beach Events 2019

May 5th, June 2nd, July 7th and August 4th
On the first Sunday of every month from 1 pm in the summer the Ferry Boat Inn, Dittisham hosts Rock on the Beach with good music and food, as always weather permitting.
Book out a boat, bring your own or just cadge a lift ! – several boats usually raft up on a buoy or at anchor near the beach, listen to the music and enjoy a picnic in the sunshine …
…………………………………………………………………………………………………………………………………………………………………………………………
Lots more exciting 2019 KRC events soon to follow.

PLEASE NOTE Waterbased events and club BBQ's are weather dependent and are subject to being cancelled. Details of timings and more information will follow throughout the season.
 …………………………………………………………………………………………………………………………………………………………………………………………
Previous 2019 Events
Stoke Gabriel Row – Sunday afternoon, May 19th 2019
A popular annual event for rowers and non-rowers. This year 17 of us travelled up to the quayside at Stoke Gabriel in 2 Seine boats and a launch to have a delicious BBQ nearby. The beautiful sunset on the return trip was an added reward – it really is a special time of day to be out on the river.

…………………………………………………………………………………………………………………………………………………………………………………………
Head of the Dart 2019, Saturday 13th April
Huge congratulations to the three club Seine boat crews who took part in the VERY windy and challenging 15K fixed seat Head of the Dart race yesterday. 12 Seine boats took part and our crews in Nancy, Amie and Morwenna all did very well.
http://darttotnes.co.uk/event/head-of-the-dart-2019/ for more information and results.
…………………………………………………………………………………………………………………………………………………………………………………………
Early Bird Row 2019, Sunday 14th April
Sadly this had to be cancelled because of challenging weather conditions.
Our first row of the season, weather permitting, will leave Darthaven Marina around 12.45 pm and return at about 4 pm. Places will be available for both rowers and non-rowers and we'll take a picnic up river mooring near Greenway Quay to watch the spectacle of one hundred and fifty Paddle Boarders racing from Totnes to Dartmouth in this year's Head of the Dart SUP Challenge.
…………………………………………………………………………………………………………………………………………………………………………………………
AGM & Social Evening 2019, Saturday 6th April

The Kingswear Rowing Club AGM was held on Saturday 6th April 2019 at 6.00pm in the Royal Dart Yacht Club.
It was a fun evening, well-attended, with a delicious two-course supper and a GREAT opportunity to THANK those who are keeping the club going.
Graham Sowerby stood down as Chairman but  agreed to stay on as Club President available to chair meetings if needed.
Rosemary Taylor stood down as Treasurer and is handing her role over to Jan Carter.
Many thanks to them both for all their hard work as well as to all the remaining committee.

The agenda and a copy of the minutes from the AGM 2018 were sent to all KRC members by email on March 10th but please ask our Hon. Sec. Anita (see committee page) if you would like them sent again.
…………………………………………………………………………………………………………………………………………………………………………………………
Members' Evening 2019, Thursday February 28th
The first get-together of the season was a Members' Evening. It was held was held at the Royal Dart Yacht Club and a mouthwatering Mexican supper was provided for over 30 people.
…………………………………………………………………………………………………………………………………………………………………………………………
Here is a taster of previous KRC outings !
Sun​ 24/06/18 Flat Owers Challenge followed by a clubhouse BBQ. Own food and drinks.
​​​​​Seine Boats racing from just above the Higher Ferry up river around the Flat Owers mark and back.

Sun​ 01/07/18. Rock on the Beach at the FBI Dittisham. Picnic afloat.

Sun ​08/07/18​  Picnic afloat. Seine Boats, Leaving Darthaven at 13.00 after a short briefing.

Sun​ 22/07/18. Rowing Rally to Tuckenhay & the Maltsters. Food available at the Maltsters. Briefing at 12.40 for leaving Darthaven at 13.00. HW 14.43

Sun​ 05/08/18​ Rock on the Beach at the FBI Dittisham. Picnic afloat. Food is also available ashore. Meet afloat off the FBI at 13.00

Sat​ 11/08/18. Rowing round the Mew Stone then back to Newfoundland Cove or Warfleet Creek. Picnic Afloat.
CANC DUE TO WEATHER

Sat​ 22/09/18. Rowing Rally to Galmpton for Fish and Chips ashore.
CANC DUE TO WEATHER

Sat ​01/12/18​ Wine Bluff Evening in the Village hall.


FBI Rock on the Beach   4pm Sunday

3rd September, 2017

Pick up a mooring off Dittisham. Enjoy the music and bring a picnic. Music kicks off about 13.00.  LW 10.32 and HW 17.09

………………………………………………………………………………………………………………
Mewstone and Newfoundland Cove Row and Picnic   Sunday

13th August, 2017

Organise a team or come along as an individual and we will fit you into a crew or bring your own boat !

It's a picnic so please bring your own food and suitable refreshments.

………………………………………………………………………………………………………………
FBI Rock on the Beach   1pm Sunday

6th August, 2017

Pick up a mooring off Dittisham. Enjoy the music and bring a picnic. Music kicks off about 13.00.  LW 11.52 and HW 18.20.

………………………………………………………………………………………………………………
Clubhouse BBQ   4pm

Friday 4th August, 2017

………………………………………………………………………………………………………….
 

KRC Curry & Skittles Evening
Great night at the Ship. A big thank you to Colin and Heather for donating £2 per meal served. Including monies from killer skittles and the raffle we made over £145. Thanks to the team at the Ship, those who donated prizes and of course everyone who came along.
—————————————————————————————–
Flat Owers Challenge
Two teams of five took part in our first Flat Owers Challenge. What a glorious day for the race and BBQ that followed. The winning team by just 2 feet after 55 minutes of racing was:
Steve, Liz, Anita and Alexa coxed by Sunil. Yes, just 2 feet! Over 25 club members then headed for our clubhouse and pontoon for our first bbq of the year. Great race superb bbq!
The winning team were presented with their trophy by Wendy.
The runners up were: Bob, Ken, Kay, Gill and Jan. Well done to both teams!
———————————————————————————————
More Fun Afloat.
Looking out this morning at a very sunny blue sky got me thinking of more fun afloat. Last year we enjoyed a number of trips up river in various craft including rowning boats, ribs and launches to the Ferry Boat Inn at Dittisham for "Rock on the beach".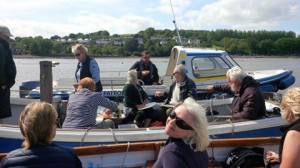 Here's the dates for 2017 Rock on the Beach events.
Sunday 7th May.
Sunday 4th June.
Sunday 2nd July.
Sunday 6th August.
The fun tends to start round about 13.00hrs………with food available. We tend to congregate attached to a visitors mooring for a picnic afloat.
So plan ahead……….book a club boat or bring your own………..get a crew together……..pack a picnic………and enjoy the afternoon.
Keep an eye on the Ferry Boat Inn website for updates.
www.ferryboatinndittisham.pub
Looking forward to seeing you there!
Graham
Tel: 01803 882125
……………………………………………………………………………………………………………………
Tuckenhay Rowing Rally
Saturday 3rd June.
Yes, back by popular demand was the Tuckenhay Rowing Rally. With 25 of us heading up to Tuckenhay after a short safety briefing. We left Darthaven at 12.15 with 3 rowing boating including one of our Seine boats, Gertrude and Spirit of Gertrude making the trip along with 3 support boats. Eats and drinks were enjoyed  at the Maltsters. We raised £65 for club funds for the continued maintenance of club boats, oars and other items of kit. After the row we headed into the Ship for more suitable refreshments.
A big thanks to everyone who joined in!
We are now looking at other rallies…….Possibly Sharpham, Stoke G and Galmpton and perhaps a row around the Mew Stone.
Watch this space and our clubs facebook page.
Regards
Graham
01803 882125
…………………………………………………………………………………………………………………….
---
There were no rallies in 2016 but below is a sample of what we got up to on the water in 2015
Saturday 16th May. The Dittisham Picnic Rally planned for the 16th was canc due to the poor weather forecast and lack of support. Next year we will avoid the Music festival weekend.
---
Sun 31st May with HW at 17.40 This was the date set for our steak on stones rally to Stoke Gabriel. Blessed with a break in the weather  26 of us headed up to Stoke G by water in various craft including our 2 Seine boats plus Neil Baxster in his superb little skiff. We all arrived alongside the pontoon at Stoke G with those rowing experiencing a challenging trip. Well done rowers! On arrival we wre greeted at the River Shack where we all enjoyed a delicious meal.
If you missed out on this rally and would like to join us on a future club rally keep an eye on this events page along with our club facebook page.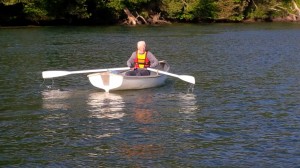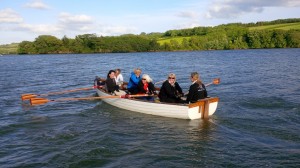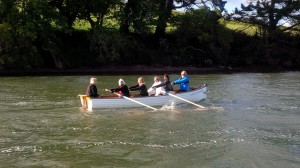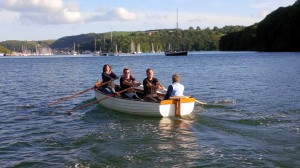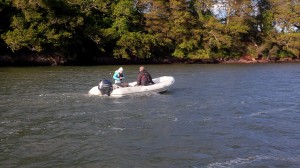 ---
Newfoundland Cove or Dittisham
Sat 6th June with LW at 15.10 was the date set for our first ever picnic rally to Newfoundland Cove however due to strong unfavourable south westerly winds we decided to head for Dittisham instead. We all rafted up on a visitors mooring and had a very enjoyable late picnic lunch. If you missed out on this rally please bear it in mind for next year as it's sure to be in the programme again.
Sharpham Picnic Row
27th June with HW at 15.05 was the date set for another new club rally. This one is to south quay at Sharpham.  South Quay is located upstream from Stoke Gabriel and Dunncannon, so similar in distance to our row to Tuckenhay but as usual we made best use of the tide all the way there and back. The Sharpham Trustees kindly agreed to let us use south quay for a club picnic for a donation towards the Sharpham Trust. After a safety briefing we left Darthaven at approx 12.30. Boats were loaded with picnic rugs, picnics and suitable refreshments for the row and picnic.
A very enjoyable afternoon picnic with 16 KRC members and guests soaking up the sun and enjoying a delicious picnic. Amie plus Gertrude and 3 other boats joined in including Dennis and Gwen Royle with their delightful sailing dinghy. South Quay is certainly a lovely picnic location as long as the weathers good…..thankfully it was.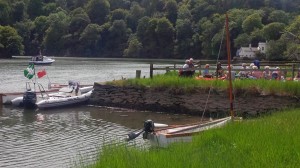 Our next Rowing Rally is up Bow Creek to the Maltsters at tuckenhay. This is on Sunday 9th August the day after Dittisham Regatta, HW Dartmouth is at 14.24 so we will be aiming to leave Darthaven by 12.15. However more details will follow.
……………………………………………………………………………………………………………………
Sat 26th September – Rally to Galmpton
Row to Galmpton for a fish and chips supper. We held this rally for the first time last year and due to much demand we have decide to include it again in our programme for 2015. More details will follow but HW is at 17.32 Height 4.9 so we will aim to leave Darthaven at 16.00. If you plan to join in add it to your diary now. As usual there will be limited seats available as we expect to just take 2 Seine Boats.
………………………………………………………………………………………………………………………………………………………………………………………………………